Bardi Arts & Cultural Experiences
Mardaj (Reef) Tour
Duration – 3 hours
Length of the walk – 500m return
When – Tuesdays & Fridays (times dependent on tide)
Location – meeting point Ardi'ol Art Gallery, follow your guide to tour location Noyon (5 minute drive, 4WD required)
Price
Adult $220
Child $110 (ages 8 to 17yrs)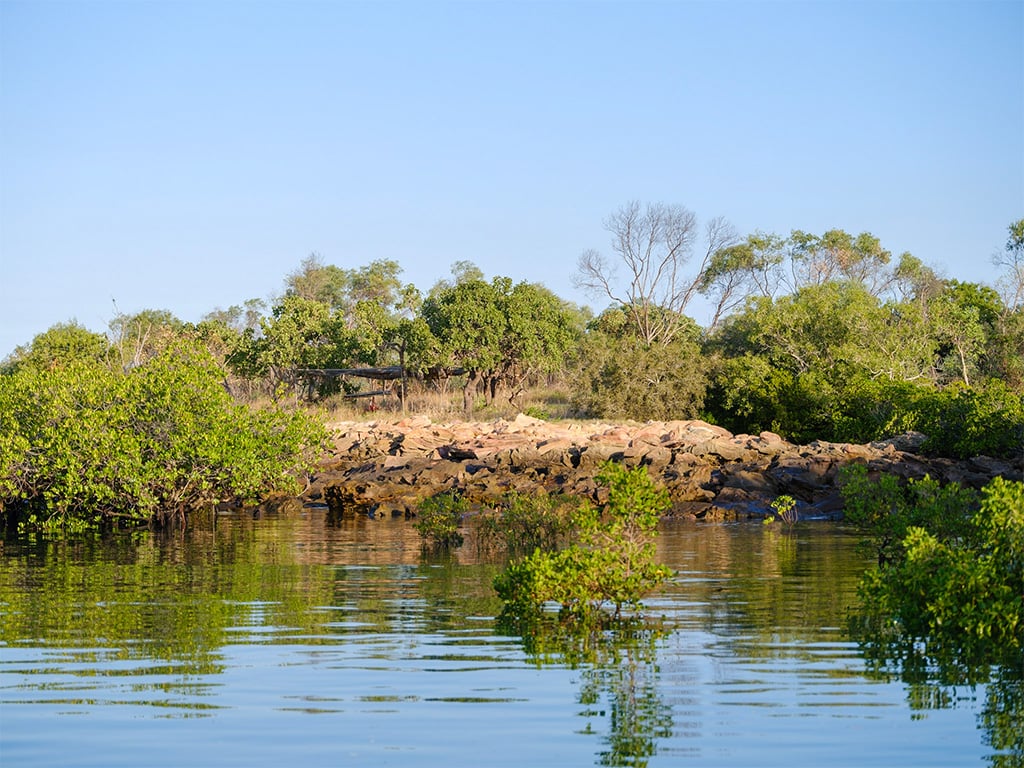 About the Experience
Journey back in time with Ardi'ol, where our ancestors walked the land, learning how traditional knowledge has been handed down over seven generations and still practiced today.
Let us show you the Bardi way of life, listening to stories, while exploring the mangrove, exposed reef system and ancient fish trap with spectacular island views.
Learn how to make your own traditional fishing spear, enjoy fresh damper by the Campfire, under the baali (beach shelter) and if you're lucky you might even get to see some dinosaur footprints.
This guided walk travels through natural landscape, we'll pass over rocky, uneven, and sometimes slippery terrain. Waterproof shoes are recommended as we pass through shallow water (alternatively, reef boots are supplied). A medium physical fitness is required.
Damper, Tea & Coffee will be provided.
What to bring
Cancellation policies
If we cancel
We require a minimum of four people to conduct our cultural tour. If we do not reach our minimum, we will offer you the choice between a full refund or a rescheduled date that suits you.
Ardi'ol reserves the right to cancel or postpone any tour due to cultural, seasonal, poor road conditions or any other unforeseen circumstances.
100% of the tour cost will be refunded or a credit given towards another tour.
If you cancel
As we have to book and coordinate several employees, we have the following conditions on cancellations and refunds.
We provide a full refund for any cancellation received no less than 48 hours prior to your tour.
Exemptions will include impacts of COVID-19, other exemptions may be applied due to extenuating circumstances, this is at the discretion of the Ardi'ol management.
No refund will be granted in the event a guest not arriving for their booking or if guests cancels within 48 hours of their tour departure.
In accordance with our duty to provide and maintain a workplace that is free of known hazards, Ardi'ol has adopted this policy to safeguard the health of our guests, employees and the community at large from COVID-19. All our employee's are fully vaccinated against Covid-19, we ask that if you are feeling unwell, present with any COVID-19 related symptoms, or have contracted COVID-19 that you kindly reschedule your tour.